As professionals, we frequently throw around words forgetting that we're speaking in code or industry jargon. A new-ish term in the financial world is Fractional CFO (Chief Financial Officer). Huh? Ya. We got you. This new role popped up due to the prevalence of virtual roles and the gig economy taking off this century. 
A Fractional CFO is simply a part-time or interim Chief Financial Officer. This is great, but it still doesn't provide much insight into what they do or why and when you'd invest in their services. 
Finance roles are closely related to accounting roles. You could say they're cousins. While both activities are responsible for looking at a company's financial health, how they do it, and their recommendations differ greatly. 
We've put together a handy infographic to help break it down.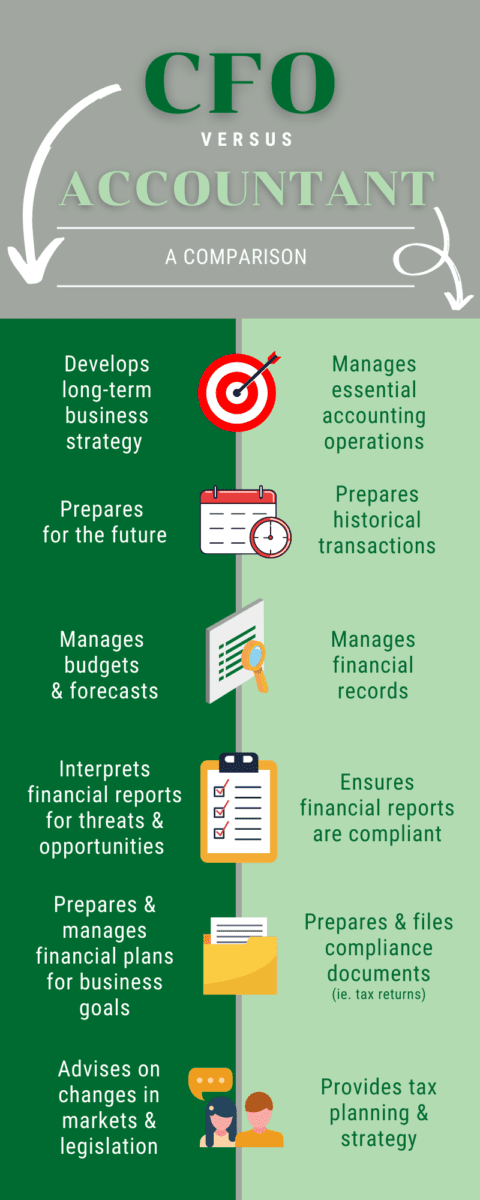 As you can see from the infographic, a primary difference between what an accountant and what a CFO does has to do with timing. Your accountant reviews past occurrences to help compile and file important financial documents, such as financial statements and tax returns. Chief Financial Officers spend most of their working hours interpreting the past to assist in predicting the future.
Think of this less as fortune-telling and more of deductive reasoning. CFOs are responsible for taking a company's snapshot and determining the business's current financial health and if they're positioned for success or failure. Kind of like when your doctor takes your blood and can determine if you're predisposed to certain health conditions. 
Benefits of a CFO
Labels, labels, labels. We've established a difference in the function of an accountant and a CFO. However, there are good odds that those who've achieved the rank of CFO were once in accounting or are in a related finance field. This experience helps CFOs analyze financial statements and interpret financial information. 
While accountants are well-versed in preparing documents to assist small businesses in raising new capital or leveraging debt, CFOs can take this further.  Financial management and updated business plans are handled efficiently and effectively. This creates ease when securing new bank loans or venture capital to invest in new projects.  
An overlooked area where a CFO can provide value relates to operations. A fractional CFO can assist a company in evaluating its administrative, financial, and risk management operations. These reviews help develop long-term strategies for financial plans and operational strategies, such as product launches, expanding locations, and deciding to hire additional employees. This added financial insight into operations helps remove uncertainty around operational business decisions. When involving outside insight into operational departments, financial challenges are frequently tackled before they develop.
Why Hire a Fractional CFO?
So. Now that we've defined a CFO and Fractional CFO let's look at why a company would hire a CFO. 
Chief Financial Officers add a lot of value to businesses. They oversee any department that touches money, so the accounting team, compliance department, finance, and even the legal and risk departments. Work performed focuses on growth strategies and developing key initiatives to identify metrics related to cost savings and revenue opportunities. They are key players in raising new capital and protecting established funds. So why would you hire a Fractional CFO vs hiring an in-house CFO?
The answer usually comes down to cost. According to Indeed, the average CFO salary in 2020 was around $140,000 in the United States before profit sharing. For small business owners in growth mode, that may cause a bit of sticker shock. Fractional CFO services offer flexibility, which allows growing businesses to pay for specific projects and advice. For example, a small business may not need oversight of its accounting team but could use forecasting and budgeting assistance quarterly to help keep its financial growth plan on track. A Fractional CFO helps give them outside perspective and access to CFO expertise without the full sticker price. 
Sum it Up
A Fractional CFO is a professional service consultant hired to perform financial strategy project work part-time. They often have an accounting or financial services background. Services can range from raising capital to accounting process review, financial forecasting, and cash flow projections. 
Fractional CFO Services help small businesses that aren't prepared to hire a full-time CFO but desire robust financial oversight.
Tax Time CPAs offers a subscription package that includes Fractional CFO services, including business valuations and financial statement review. If you'd like to learn more about whether this service is right for you, contact us to schedule a call today.